Pens, knives & other stuff
Great Eastern Cutlery knives are fabulous. They bring to the present the craftsmanship and history of a by-gone era. Lots of people collect them becuase they come in so many different patterns and materials - and are made in remarkably small quantities. But there are still plenty folks who put them into everyday use. But here's the rub.
GEC just does a fair job of getting their knives sharp before they leave the factory. If you think that's odd, you'd probably be right. But then maybe getting a super sharp on a knife would add significantly to the cost and move them into new price points. I dunno.
Then I think of Japanese kitchen knives that come without a final edge on purpose. Because putting the final edge on a knife is a personal affair - the bond between a knife and its owner - and the maker in Japan would not think of stepping where he should not go. Besides, if your not up to sharpening such a knife, you don't really have any business having one in your hands. So there.
Maybe that's the deal with GEC knives. But I don't think so. It's probably just money. In any case, getting a proper edge on a GEC knife is a part of the drill.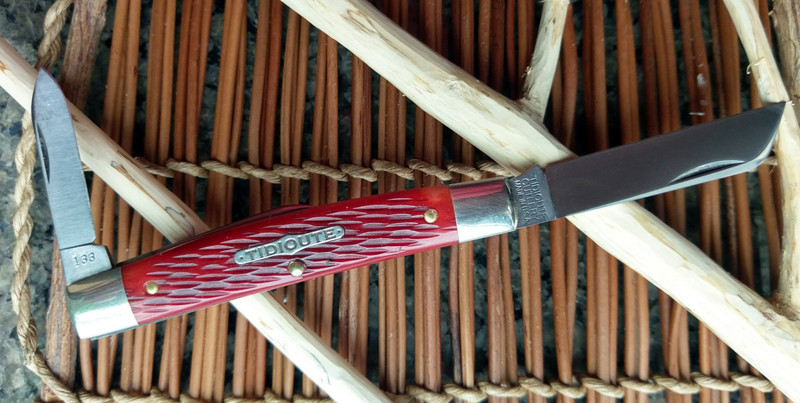 My No. 13 Whittler in Tidioute trim and red jigged bone is wonderful in the hand. Not too big. Not too heavy. The sheepsfoot main blade is relatively short, but that makes it comfortable and accurate when whittling and carving. The two pen blades are nice for detail work but a little delicate. But it was kinda dull. The factory edge is at a steep angle with a narrow bevel.
Now I'm not a sharpening expert by any means. And it was a little hard to make the move but I knew I needed to. Even if I wound up screwing things up with an uneven edge and scratches on the blade, it would be a learning experience.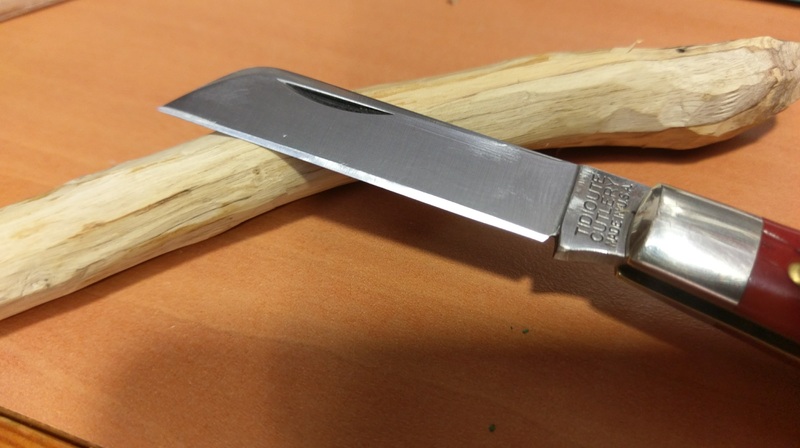 So I did wind up with a slightly uneven edge and some small scratches on the blade, but the thing is now sharp. And it feels like it's mine.
The pen blades were a bit harder to work on since they are so small and, of course, curved.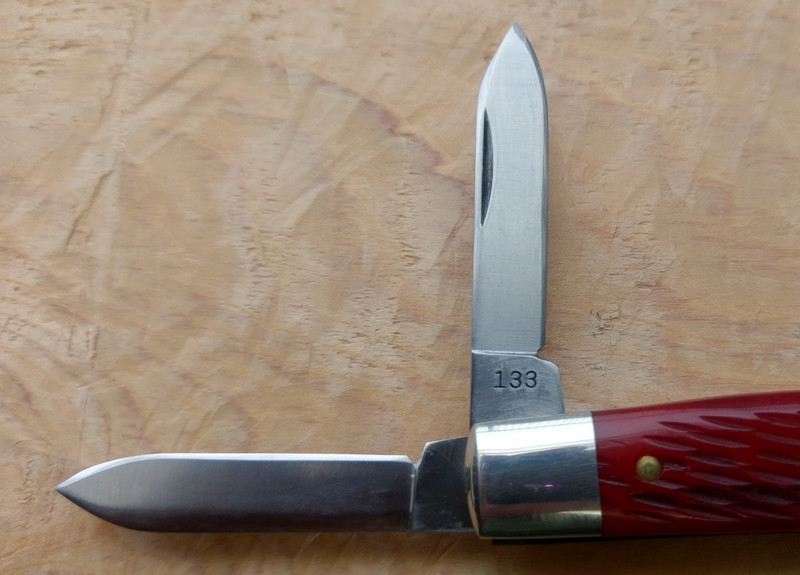 Before you ask, I'm using a Ruixin Pro sharpener. I started with the 320 stone and then did the 600 and 1500 stones. I sharpened at about 18 degrees, using a level app on my phone to check the angle. I added some magnets under the leading edge to help keep the blade in place while sharpening. A very useful mod!
The 1095 carbon steel GEC uses goes fast. The blades are small, so that may have been part of it. The 1500 stone brought the edge to close to a mirror polish.
After sharpening I stropped the edges using leather strop with green compound. I'm not sure the specs of the compound but it seems to work well.
In the end, I can say that the knife isn't new anymore. But it's mine.